Name: Grace Cain
Class Year: 2020
Major: Psychology
Hometown: Chicago
Internship Organization: Judge Baker Children's Center, Camp Baker
Job Title: Undergraduate Counselor
Location: Boston/Westwood, Mass.
What's happening at your internship?
This summer I am working as a camp counselor at Camp Baker, a treatment camp based out of Judge Baker Children's Center in Boston. Camp Baker is an STP (Summer Treatment Program) for children with ADHD and other behavioral difficulties. The program uses individualized rewards and consistent discipline in the form of a point system as well as a timeout protocol to help children regulate their emotions and behavior. As a camp counselor, I spend five days a week from 7:30 a.m. to 5 p.m. with 13 6 and 7-year-old children. Camp Baker works to emulates a general camp environment, while also implementing therapeutic techniques to improve the emotional regulation of campers. The two cornerstones of the program are delivering discipline in a neutral and consistent manner when campers are dysregulated (unable to control their behavior), and providing specific and constant praise when campers are behaving appropriately.
Why did you apply for this internship?
I wanted to gain more experience in a clinical setting with children to further determine if clinical work is what I would like to do in the future. During my job search, I found a lot of positive testimonies from parents about Camp Baker that made the program seem like a great place to work.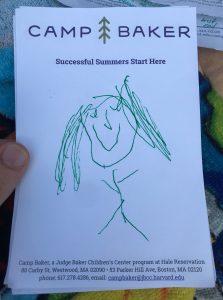 Can you talk about the skills you are learning and why they are important to you?
I have been trained in de-escalation and crisis intervention techniques that are vital in keeping campers from hurting themselves and others. When children are dysregulated and take their anger out on counselors verbally and physically, we keep the children safe and maintain the demand we initially placed on the child. At first I was concerned that children would harbor the negative feelings they expressed for me during these moment of dysregulation. On the contrary, because we maintain demands and then immediately lay on praise at the first sight of positive or neutral behavior, children actually often seem more motivated to improve their behavior after moments of dysregulation and to prove to me that they can do better. This has taught me that being stern is positive for this patient population and that it is a disservice to them and their futures to be too lenient, especially in a misguided effort to feel less negativity in the moment.
What is most rewarding about your internship?
The most rewarding part of my internship is watching campers learn to regulate their emotions, decrease the number of timeouts they receive and earn rewards for good behavior. I have been especially surprised and humbled at the campers' attempts to prove they can do better.