Name: Alexis Boutchie
Class Year: 2020
Major: Biochemistry and Molecular Biology
Hometown: North Lauderdale, Fla.
Internship Organization: MD Anderson Cancer Center
Job Title: Summer Intern
Location: Houston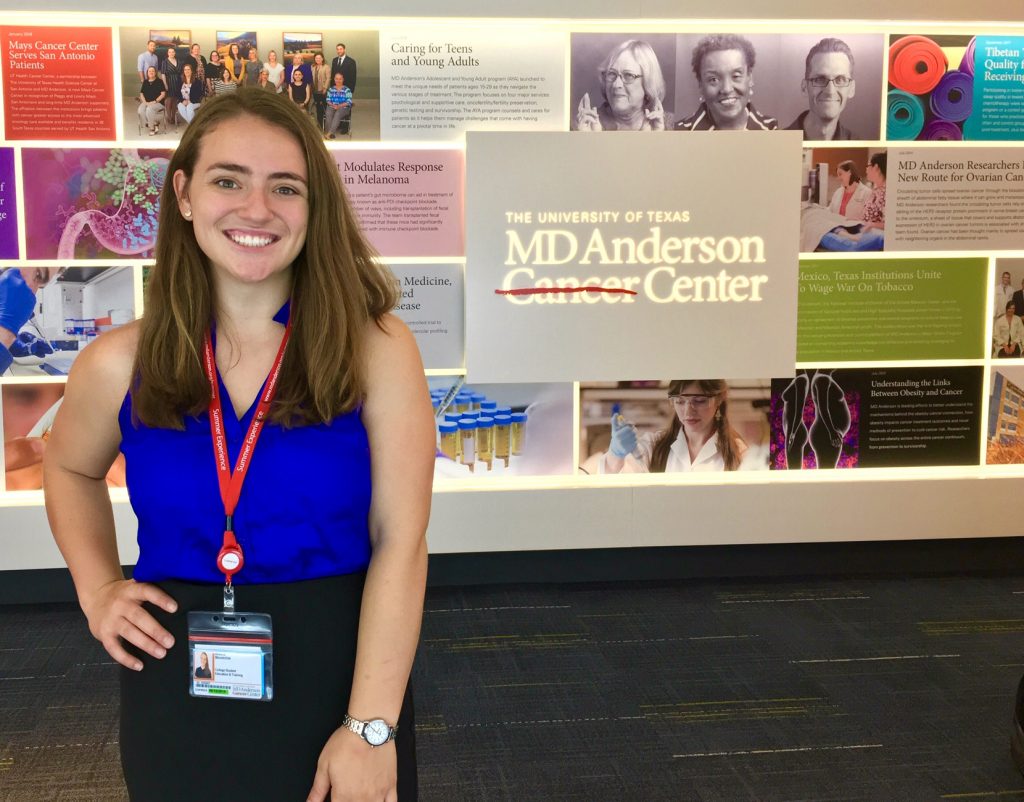 What's happening at your internship?
I'm doing research in the Department of Stem Cell Transplantation and Cellular Therapy at the MD Anderson Cancer Center in Houston. My research specifically focuses on modifying the expression and avidity of a specific chimeric antigen receptor (CAR) that my lab has developed to improve effectiveness and reduce unwanted toxicities involved in using the CAR to treat acute myeloid leukemia.
Why did you apply for this internship?
I'm currently entering the latter half of my junior year at Bryn Mawr and am considering my options for post-college plans. I know that I want to go to medical school, but as a biochemistry and molecular biology major I've more recently considered concurrently applying to M.D./Ph.D. programs. I've never conducted research, however, and I thought that this internship would be a perfect opportunity to gain experience within a field of research that I'm interested in (cancer) and help me decide whether a Ph.D. would be something that I would realistically enjoy pursuing. My program also includes shadowing opportunities, cancer biology seminars, and talks from different professionals within the field of medicine and I thought that this combination of research and clinical experience made it the perfect fit for me.
What has been your favorite part of this internship?
Getting to work on cutting-edge research with brilliant individuals. I enjoy the scientific process, and it's fascinating to go from reading about a new groundbreaking discovery in research or medicine to not just watching someone continue that research but to be included in conducting it. My mentor's have been insightful, patient, and resourceful and it's made learning all the new lab techniques and immunology background much more smooth than expected. Acquiring new data is exciting and meaningful, and knowing what an impact that research could make on someone's life feels rewarding.
Living in a new city? What has that experience been like for you?
I've never been to Texas, much less Houston, so getting here alone on day one was definitely nerve wracking. The one thing that has made this transition much smoother is the Bryn Mawr community. I'm living with two other current Bryn Mawr students who are also interning at MD Anderson for the summer and having them with me has made me feel so much more comfortable and at home. We're also living with a Bryn Mawr alum (who is friends with many other Bryn Mawr alums) and she and they have truly made us feel welcome. It's wonderful to see and feel how strong, compassionate, and supportive the community is beyond the walls of and time at Bryn Mawr and makes me optimistic that I'll have that support there for years to come.