Name: Varuna Jasodanand
Class Year: 2020
Major: Psychology, Philosophy
Hometown: Curepipe, Mauritiues
Internship Organization: Perelman School of Medicine
Job Title: Research Fellow
Location: University of Pennsylvania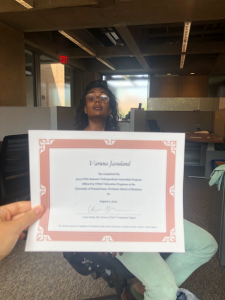 What's happening at your internship?
We are conducting studies on patients and healthy controls, investigating the neural mechanisms underlying affective illnesses. We are researching the potential benefits of administering transcranial magnetic stimulation to targeted brain regions in alleviating negative symptoms.
Why did you apply for this internship?
I want to pursue a career in clinical neuroscience, and working at the center for neuromodulation of depression and stress provides me with a perfect idea of what working in this field actually is like.
What has been your favorite part of this internship?
Bonding with everyone at the lab because they have all been so kind and helpful!
Can you talk about the skills you are learning and why they are important to you?
I am learning a lot about programming and data organization and management. These are very important for the field of clinical neuroscience because of how prevalent the use of neuroimaging methods are.