Name: Carlie Hansen
Class Year: 2021
Major: Biology + Political Science
Hometown: Chicago
Internship Organization: Office of U.S. Sen. Tammy Duckworth
Job Title: Operations Intern
Location: Washington, D.C.
What's happening at your internship?
As the operations intern, I have one of the more dynamic roles within the internship cohort and the senator's office as a whole. I have worked in every department so far this summer, including communications/press, admin, legislative, and scheduling. Basically, wherever the office staff can use extra hands or an extra brain, I'm there. The teams I work most closely with, however, are the administrative team, where I sort mail or review voicemails, and the legislative team, where I assist the environment and energy policy staffers. On a daily basis, I also engage with the senator's constituents over the phone and when they visit the office, recording their legislative opinions and assisting them in connecting with caseworkers in the senator's state offices.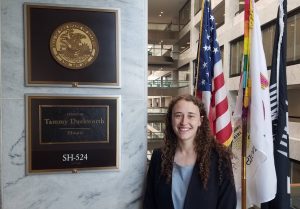 Why did you apply for this internship?
Senator Duckworth is one of my home state senators, and has been a huge inspiration to me as I've started thinking about a career in politics, so it seemed natural to pick her office to apply to intern in. For a while I've had an interest in working on the Hill in D.C. after I graduate, so I figured applying for a congressional internship would be the best way to see if I wanted to build my career here. Prior to this summer I also received advice that an internship on the Hill in some ways serves as an extended job interview, as the connections you make and reputation you build while interning can help you get a job later on.
Can you talk about the skills you are learning and why they are important to you?
This internship first and foremost has been an opportunity to polish my writing, speaking, and Excel skills. I've gotten to develop intrapersonal skills working in group settings and with a variety of teams within the office, and learned how to engage with the senator's constituents. In the bigger picture, I'm learning about what it means to represent a constituency and how to do so effectively and diplomatically. With that, I think it is important to recognize that any elected official represents people who hold a variety of beliefs, not just those who share their views. Throughout my internship I've gotten to see how the senator takes into consideration the views of her constituents without compromising her own beliefs when it comes time to make decisions.
Was this internship what you expected it to be?
I didn't have a lot of expectations about the internship going in, especially because I had no idea what an operations intern did in the grand scheme of a congressional office. I also have had to constantly think on my feet, as no two days are ever the same on the Hill. But going into the internship with no expectations has let me take better advantage of any learning opportunity that I've encountered so far — I can't wait to see what the rest of the summer holds!