Name: Elsa Nierenberg
Class Year: 2021
Major: English
Hometown: Boxford, Mass.
Internship Organization: The Weekly Humorist
Job Title: Intern
Location: New York City
What's happening at your internship?
The Weekly Humorist is a satire site, but there's also a podcast, Talkward, each week and a monthly standup show, Guaranteed Delivery, every month. So, the day-to-day can vary a lot. Any given day can include reading and editing submissions for cartoons and humor pieces, uploading articles with pull-quotes to social media, editing and uploading podcasts, researching materials about sponsors or interview guests, working on production for the standup show, and really anything else in the media-sphere that comes up! For example, one morning last week I drafted a list of interview questions for a podcast with Mike Sacks (author of Poking a Dead Frog, writer for the New Yorker's Shouts and Murmurs). Outside of the office I work a lot on my own satire pieces — I'm a contributing writer for five humor sites currently, so I'm always thinking and writing. I submit some of those pieces to The Weekly Humorist, which is another nice way to be tied into the work and mission of the site.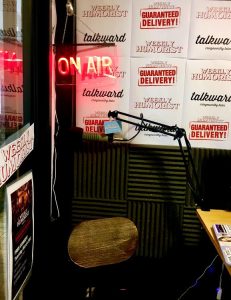 Why did you apply for this internship?
I started performing standup comedy when I was 16-years-old, writing and performing sketch comedy when I was 17, and writing published satire pieces when I was 18. At 20, I produce a standup showcase in Philadelphia, I perform standup in Boston, Philly, and New York most nights, and I write for several humor publications. I also founded Bryn Mawr's sketch comedy troupe, Spoon-Fed. The truth is, I've loved everything comedy since I was 8-years-old and first saw George Carlin's famous bit, "7 words you can't say on TV". Being in New York City this summer and working in the field I'd like to make a living in post-grad was really important to me — both for developing my comedy networks and resume, but also for just further developing myself as an independent human taking on a big new city. As soon as I met Marty (the editor-in-chief) I knew that I wanted to work at The Weekly Humorist. Not only is the content incredible, but the people around me are thoughtful, funny, and talented. I feel like I'm in the space I'm supposed to be this summer!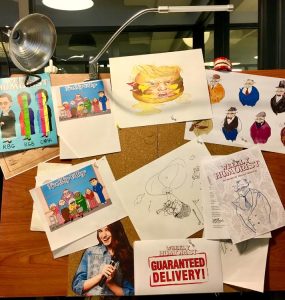 Living in a new city? What has that experience been like for you?
Between growing up outside of Boston and going to college outside of Philadelphia — both of which I frequent for standup gigs most nights, time with my friends off-campus or away from home, and the occasional visit to an art museum or good burrito spot — I thought I knew almost everything there was to know about navigating a city atmosphere. New York is big, really, really big. And that means that it can feel confusing, overwhelming, and intimidating (especially when in addition to learning the subway, you're also learning the open-mic and booked standup show scenes, cultures, and spaces). It's been incredible to be in New York; at the mecca of all of the art and comedy and life I could ever hope to absorb. Confusing at first, lonely occasionally, exciting and alive all hours of the day, warm and welcoming more often than not, and empowering and door-opening all along the way. I'm grateful for the chance to grow my courage muscles and eager to say that after my first week, I realized that the subway is actually pretty easy to use!
What has been your favorite part of this internship?
Having the opportunity to do what I love every day is a huge part of what makes this internship so positive for me, but my favorite part is the wonderfully talented people whom I get to work with, meet and network with, get advice from and bounce ideas off of, and support in their own work in turn. My boss, Marty Dundics, is one of the kindest and most supportive bosses I've ever had and the comedians and mentors who he's connected me to have been warm, welcoming, and nothing short of inspiring. I feel very lucky to be here.