Name: Rosemarie Fettig
Class Year: 2020
Major: English
Hometown: Potomac, Md.
Internship Organization: American Philosophical Society
Job Title: Curatorial Research Intern
Location: Philadelphia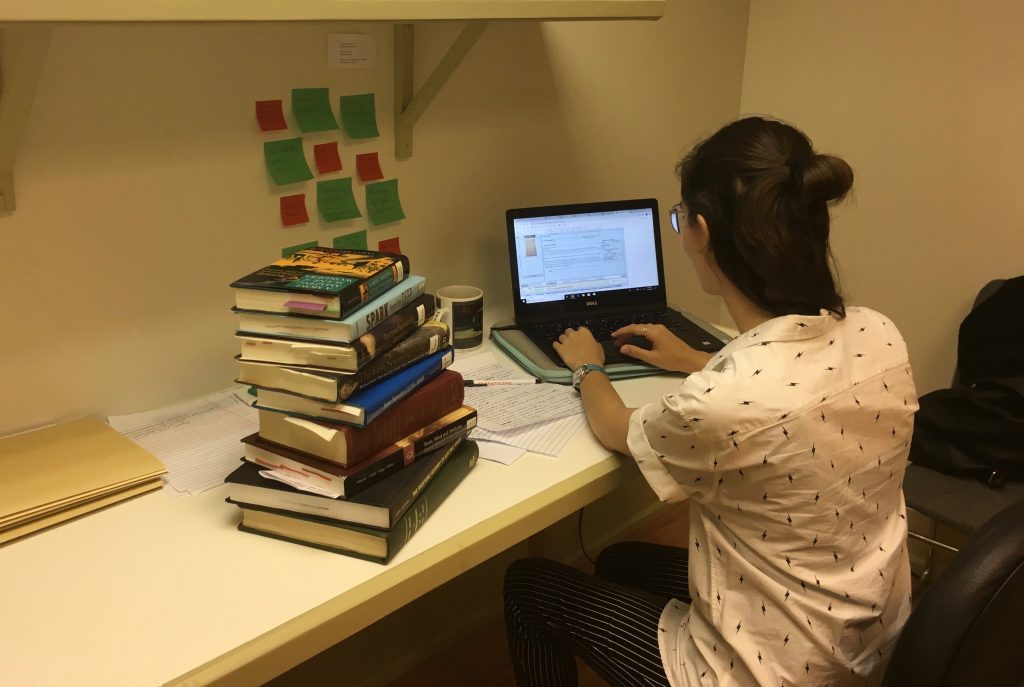 What's happening at your internship?
As a Curatorial Research Intern, I spend most of my time reading! At the APS Museum, summers are dedicated to preparing for the next year's exhibition, so the curatorial team starts off reading secondary source material about the exhibition topic — our exhibition is about Benjamin Franklin and science — before turning to primary sources and objects to include in the exhibition. When I'm not reading in my office, I'm in the APS Library's reading room, consulting books and manuscripts from the archives. My specific project has been researching Ben Franklin's experiments and inventions with electricity, which there's certainly no shortage of material on! I've read letters between Franklin and his philosophical peers, gone through all of the Library's 13 copies of his book, Experiments and Observations on Electricity, and deciphered some slightly cryptic scientific illustrations, all to help our two Curatorial Fellows develop the story they want our exhibition to tell and gather material for object labels and guide scripts.
Why did you apply for this internship?
I'm hoping to pursue museum work after graduation, and I knew that this internship would give me valuable experience in the field. While I've already done some museum work — I'm a Special Collections Assistant at Bryn Mawr and I interned in the Registrar's Office of the Smithsonian American Art Museum last summer — I've never done curatorial work before, so I was eager to broaden my experiences and gain a more well-rounded understanding of all the different subfields of museum work!
What has been your favorite part of this internship?
As cheesy as this might sound, my favorite part of my internship is the people! Working at a smaller institution means that there's a lot of communication and cooperation between different departments, so everyone knows what everyone else is working on and is constantly learning from each other. For me, this means I get to learn more about how the museum as a whole functions and develop a new appreciation for all the different things museum staff do!
What is something you have learned from your internship that you didn't expect?
One of the best parts of my internship is the fact that I learn something new every day, since early American history and the history of science were both subjects that I didn't know a whole lot about before I started this position. My personal favorite fact: mid 18th-century scientists were fascinated by a fish called the torpedo fish, a type of ray that gives off a shock like an electric eel, and their obsessive study of this fish eventually led to the development of early electroshock therapy and the invention of the battery!