Name: Kass Wojcik
Class Year: 2022
Major: Biology
Hometown: Green Township, N.J.
Internship Organization: U.S. Fish and Wildlife Service
Job Title: Wallkill River National Wildlife Refuge U.S. Fish and Wildlife Service Intern
Location: Wallkill River National Wildlife Refuge, N.J./N.Y.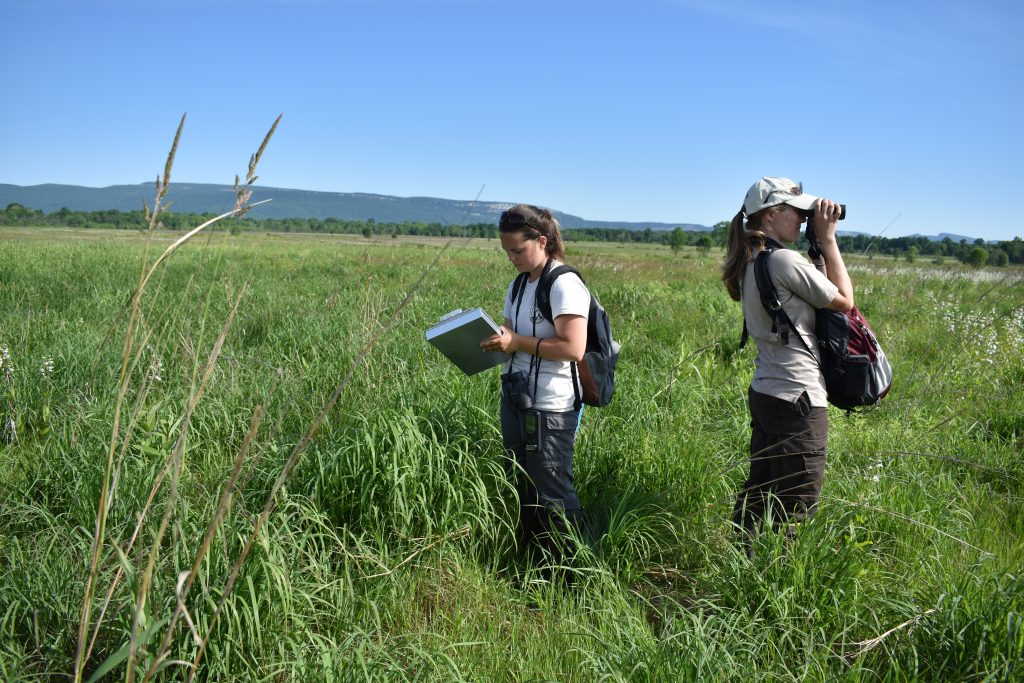 Most days, I leave for my summer job at the Wallkill River National Wildlife Refuge in northwest New Jersey at around 7 a.m. A few weeks into my internship, though, I found myself stumbling out of the door at 3:15 a.m. and sleepily driving to the Shawangunk Grasslands National Wildlife Refuge a couple of hours away in upstate New York with Wallkill Refuge Specialist Chelsea Utter and Great Swamp National Wildlife Refuge Wildlife Biologist Marilyn Kitchell. As we arrived, the sun was just breaking over the top of the Shawangunk Mountains and illuminating the dew-covered fields. We didn't waste any time marveling at the view, however.  We tucked our pants into knee boots, strapped on bags and binoculars, and waded out into the dew-soaked, waist-high grass to begin a four-hour trek around the Refuge.
Why was I doing this again?
The simple answer was because of the birds. Grassland bird species are most active in the early morning — which is why we too were up so early. Our task was to conduct a grassland bird survey for the Lenape Complex U.S. Fish and Wildlife Service (USFWS). Every year, the Lenape Complex (which includes the Wallkill, Great Swamp, and Shawangunk Refuges among others) collects data on breeding bird species to ensure that the area's populations are thriving. My job was to monitor and record the wind speed and temperature while Chelsea and Marilyn counted birds by visually spotting and listening for them over a five-minute period at 20 different sites throughout the refuge.
If you want the deeper answer as to why I was up at the crack of dawn tramping through soggy grass, it's because I love doing things like this. There's few things that I enjoy more than adventuring outdoors and learning about what's around me, which is how I realized that interning with the USFWS (whose mission is to conserve our natural resources) would be the ideal experience for me. The USFWS focuses on what I'm passionate about while connecting to my career goal of going into biology and ecological science. My interests coupled with my prior interactions with the Wallkill USFWS during high school is what allowed me to connect with the refuge staff and set up my internship with them.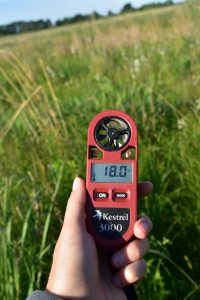 Besides the bird survey, I've tracked turtles, monitored bald eagle and sandhill crane nests, learned the basics of GIS, developed interpretive signs and fliers, worked at public outreach events, and helped various staff members around the refuge. I've learned so much about being a biologist not just from the field work that I've done, but also from just talking to refuge staff. As a young woman considering a career in biology, it's been especially useful to have the opportunity to talk to Chelsea and Marilyn — two accomplished female conservation and wildlife biologists working in a field still mostly dominated by men.
My experiences at the Wallkill Refuge have been invaluable, and I'm so grateful to the USFWS and Bryn Mawr for allowing me the opportunity to explore both my interests in the natural world and a career in biology with this valuable and rewarding internship.