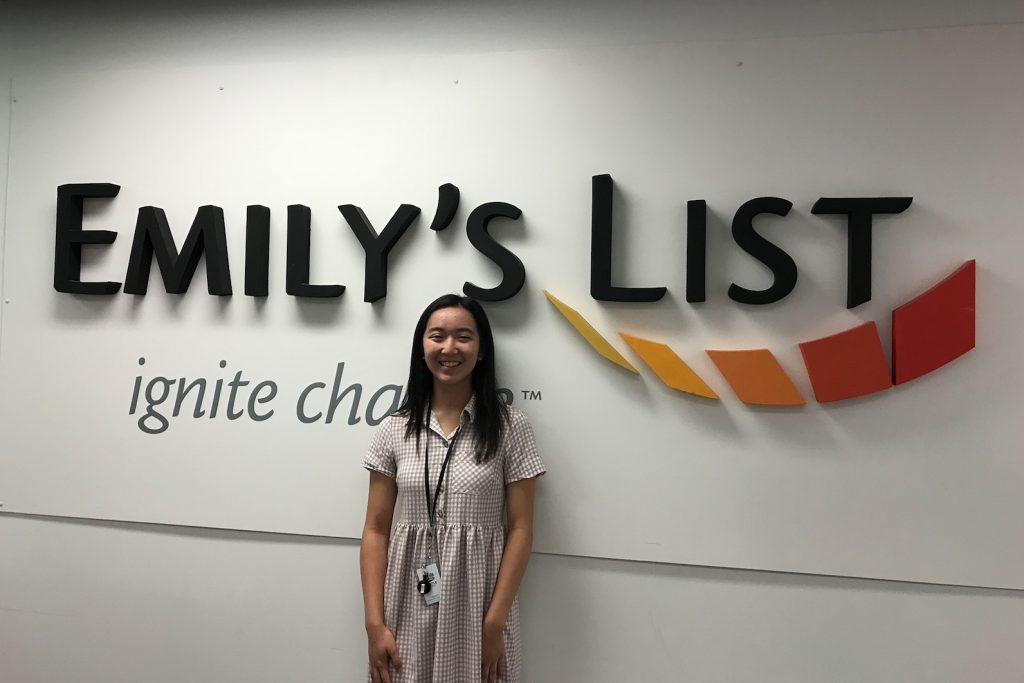 Name: Chloe Liu
Class Year: 2021
Major: Political Science
Hometown: Princeton, N.J.
Internship Organization: EMILY'S List
Job Title: State and Local Campaigns Intern
Location: Washington, D.C.
What's happening at your internship?
EMILY'S List is a political action committee that is focused on electing pro-choice democratic women to all levels of government. EMILY's List is the nation's largest resource for women in politics, and it has raised over $500 million to support pro-choice Democratic women. I am currently interning in the State and Local Campaigns department, which trains and supports candidates and their campaign staff. My day-to-day work includes compiling and writing background research on candidates and races, communicating with state and local candidates to aid them with administrative tasks, and attending staff meetings.
Why did you apply for this internship?
I applied for this internship because I know the importance of electing pro-choice Democratic women to state and local legislatures. I believe that state legislatures have the most influence on constituents' day-to-day lives. Issues such as choice, healthcare, water quality, and school budgets can be affected by local legislatures. I believe that it is important to elect women who will champion progressive change.
Living in a new city? What has that experience been like for you?
This is my first time living in a city and I love it! I'm adjusting to casually walking past national monuments when crossing the street and watching motorcades zoom past me on my way back from work. Currently, I have two major goals: 1. Go to all the free museums 2. Find every vegan bakery in the area.
What is most rewarding about your internship?
The most rewarding aspect of my internship is that I know that every piece of work that I do is meaningful. Although it is sometimes difficult to imagine the impact of the work that I am doing behind a computer screen, I know that every project I complete will help elect a candidate into office.