Name: Joan Ndichu
Class Year: 2021
Major: Economics and Mathematics
Hometown: Nairobi
Internship Organization: Grid Alternatives
Job Title: Outreach team intern
Location: Washington, D.C.
What's happening at your internship?
I am currently interning at Grid Alternatives, a nonprofit solar panel installer that provides solar at no cost to low-income households. I am currently under the outreach department, where I work with the data collected. I go to client visits where I help them in the application process, explaining to them how the system works and how much they will save after they switch to using solar energy. My colleagues are very friendly, and I am learning so much about how solar panels work and how much energy is saved using solar. I also work with the engineering team, where I have learned about the design and the math involved in coming up and installing the panels.
Why did you apply for this internship?
I have always wanted to work with nonprofits and being an Economics and Mathematics major, Grid Alternatives was the best place for me. Grid works with mostly low-income households in D.C., and hence engages with the community. I am very passionate about community development and reaching out to people living in marginalized communities and helping them invest in the resources they have. Also, being a math major, I love working with engineering-elated work that involve applying the mathematics I have learned and puttin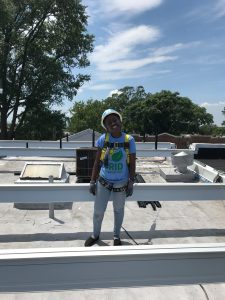 g it into practice. Grid Alternatives was a combination of both, and thus was the best fit for me, and everyday as I work here and learn more about the organization and its client, I realize how much grid fits my passion and interest.
Was there anything special about how you found this internship?
I found my internship through a summer program I am also doing this summer. The program is called Bridge DC and it involves learning about injustice issues in our communities, mostly the D.C. area. We learn about the people affected by systemic injustices by living around the neighborhood and learning their stories. Afterwards, we get to learn how we can apply our skills to helping develop our communities and building up just systems that provide fair services to all. Hence, it is through the program that I learned about Grid Alternatives.
What has been your favorite part of this internship?
My favorite part will definitely be when I went for an actual solar panel installation and the engineers guided me through the whole process until we finished the installation. I have never been on a roof before, working; it was an amazing experience. It was also nice working with the team and them sharing their past experiences in the work. At the end, we got a chance to interact with the owner of the house, and seeing the smiles on the older couple's faces after we were finished the installation was more than precious.