Name: Lyncy Nyandoche
Class Year: 2021
Major: Economics and Mathematics
Hometown: Homabay, Kenya
Internship Organization: American Express
Job Title: Finance Intern — Corporate Planning and Analysis
Location: New York City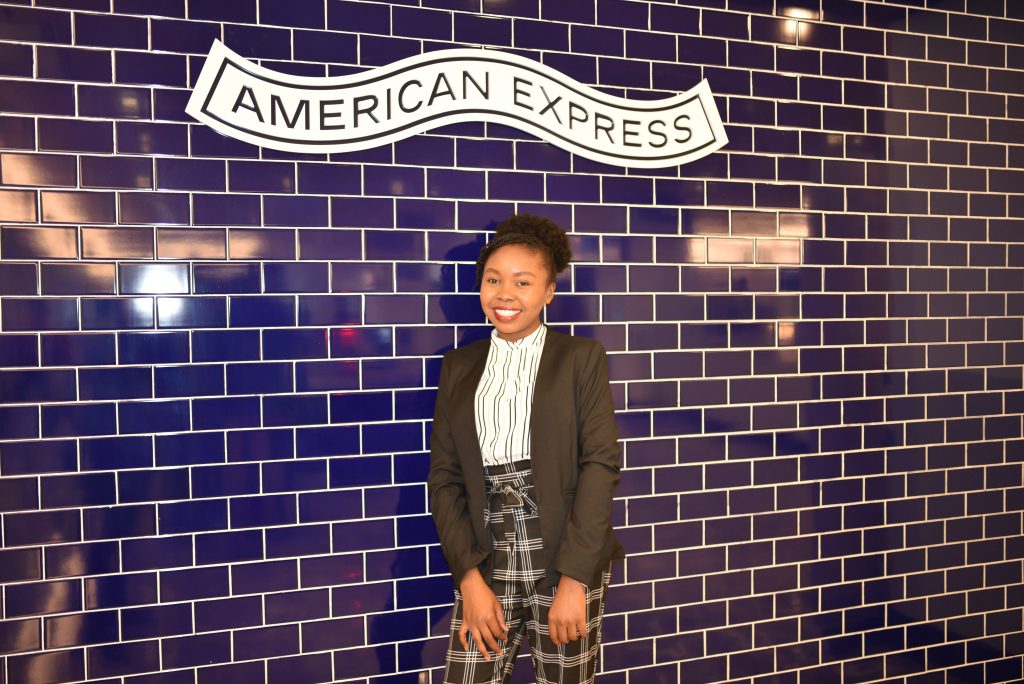 Choosing the American Express Internship meant foregoing an opportunity to head back home to Kenya to work with a startup to improve farmers' productivity and increase their financial awareness. I was motivated by the eventual long-term benefits of gaining technical, communication and leadership skills and creating a network that would enable me to have an even bigger impact in the future. Besides, this internship was a stepping stone in helping me decide what careers in finance I am interested in pursuing. This was my first corporate America experience! I didn't know what to expect and I was nervous about my performance, on top of my non-finance academic background. Through my experience at school, I decided to put into practice the pre-internship orientation training held by the Career & Civic Engagement Center.
At the beginning of June, I joined the Corporate Planning and Analysis team at American Express during the month-end results reporting and the long-term planning period; which is one of the most work-intensive periods of the team. I had to dive deep into understanding the reports that my team was working on, which consisted of researching, asking questions and completing assignments from the talent acquisition team. I was assigned a project to create a forecasting model for Charge Accounts Receivable (A/R) of Commercial Cards. This model would provide a more accurate forecast of the Commercial Charge Cards A/R, thus facilitating better risk provision on the Profit & Loss Statement. During my time at Amex, the most challenging aspect of my internship was my project, since I didn't have any experience in either financial modeling or statistical forecasting. Thinking about how much I had to do independently was nerve-wracking, but it motivated me to put on my heels and step into any challenge courageously. I embraced Amex's Blue Box value of teamwork by collaborating with my direct team and other teams with subject matter expertise to successfully deliver. I largely attest my success to the incredible support of my team, who were so welcoming since day one.
The most surprising aspect of my internship was the level of Amex's commitment to diversity alongside wholesome personal development. I never thought that I would find a financial services company that committed so many resources to personal growth and cared that their employees have a work-life balance. Every colleague is supportive of one another and there is great mobility within the teams and divisions. There are very few days that I remember spending wholly at my desk. I had company-wide educational events, executive speaker series and/or coffee chats that occupied my time.
There were so many equally rewarding aspects of my internship that I can only speak to a few. After my presentation, my model attracted attention from the parallel team on Consumer Services; in which they wanted to adapt my model. Aside from my work, I had the opportunity to meet and interact with senior leadership over executive speaker series and other networking events. For example, during a breakfast event, I realized that I was seated next to the CFO! Above all these, I created a professional network and gained friends through several fun activities with my fellow interns. Courtesy of this Amex network, I spent weekends with the sophomore interns exploring and going on many adventures in the wonderful city of New York. These among other experiences led to my decision to spend another summer at American Express.
I'll cherish my first experience in the corporate world, but most of all thank you Amex for introducing me to my new best friends!